Hi, my name is Steve (aka "Fender the Winking Chimp" for no readily apparent reason)
Here you will find a selection of pictures, animations and games
that are the product of my mind ... scared? you should be.
---
Isketch Mug Offer!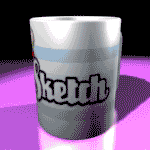 Click image to claim your free mug!
---
PHOTO GALLERIES AND OTHER ODD BITS
Paradise Wildlife Park Photo Gallery
Trent Park, Whitewebbs and Dobb's Weir Photo Galleries
Mountfitchet Castle Photo Gallery
Hampton Court Palace Photo Gallery
---
PARODY ADVERTS
---
Oooh, it's an old Flash clock I made years ago!
This site is under construction, probably never to be finished knowing me, but I hope
you'll enjoy what's here.